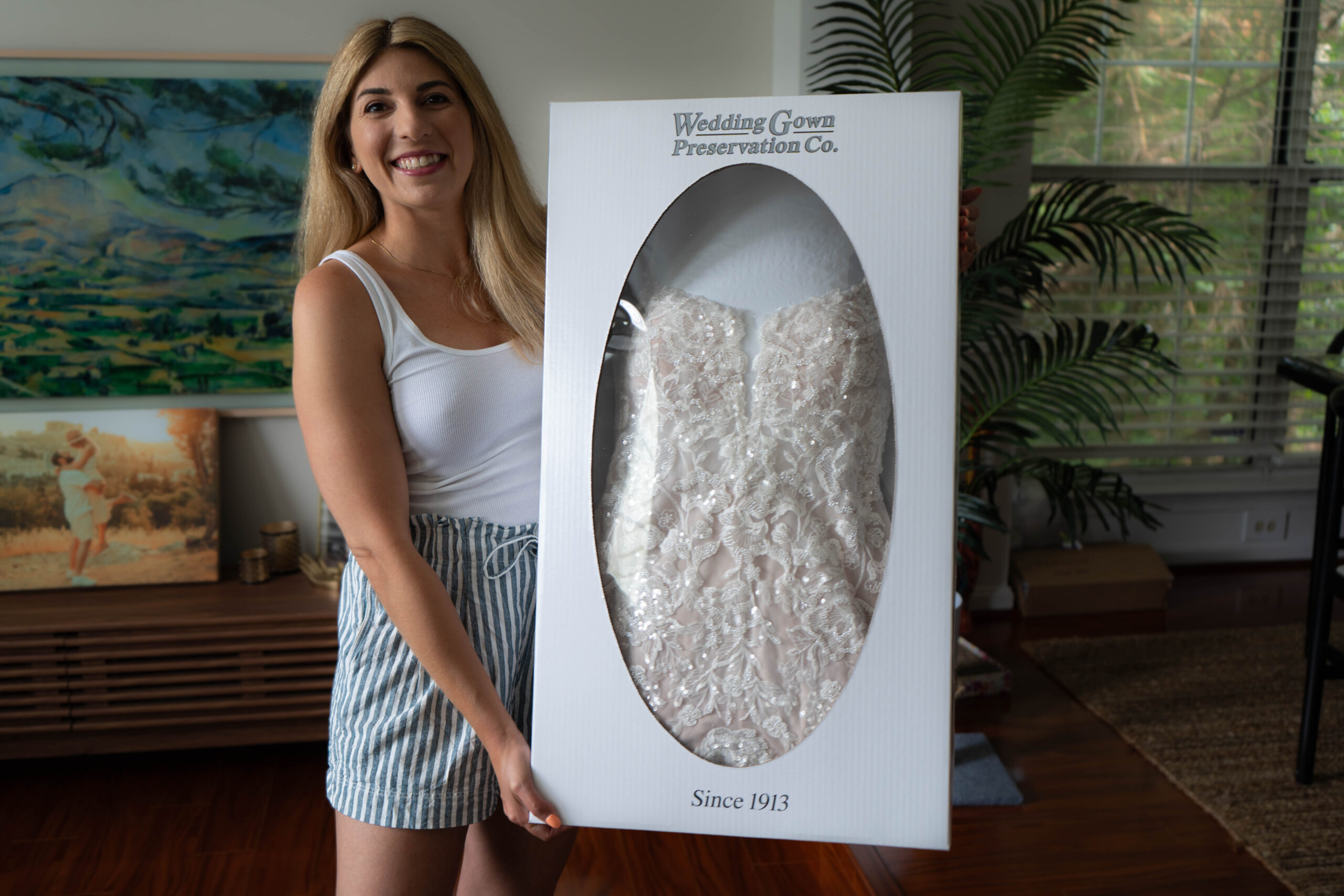 After months or even years of meticulous planning, the day you've been eagerly anticipating has finally arrived – your wedding day! The moment you slip into your dream dress, the world seems to pause, and you transform into the radiant bride you've always envisioned. It's a "one night only" special, where you are the star of the show, basking in the love and admiration of your friends and family. 
As the day unfolds, every step you take down the aisle, every dance, and every heartfelt embrace becomes woven into the fabric of your gown, forever leaving an indelible mark of joy and love. But, as the celebrations draw to a close, and reality sets in, you might wonder: "What do I do with my cherished wedding dress now?" Well, fret not! Bridal gown preservation is the answer to safeguarding the essence of your most treasured garment, preserving not just the dress itself but also the beautiful memories that accompany it. 
In this blog post, we will explore the reasons why you should consider preserving your bridal gown, expected costs, and where to find a preservationist.
Why Should I Preserve My Wedding Gown?
Read through the multiple reasons below to determine if preserving your wedding gown is the right decision for you.
To Retain Its Beauty: Over time, fabrics and materials can degrade due to exposure to light, air, and environmental factors. Without proper preservation, your gown may yellow, stain, or become brittle. By preserving it professionally, you can retain its original beauty and keep it in pristine condition.
To Use as a Future Heirloom: A wedding dress can become a cherished family heirloom, passing down through generations as a symbol of love and union. With proper preservation, your gown can be treasured by your future children, grandchildren, or even future generations who will feel a connection to your special day.
To Repair Stains and Rips:  Professional gown preservationists don't just put your dress in an air-tight box. First, they take the time to make any necessary repairs to your dress, be it wine stains or tears.
To Save Space: You might have kept your dress hung up in its bag in your closet in the lead-up to the wedding day, but if you don't have a lot of extra space at home, getting a nice box for your gown is a great way for it to take up as little space as possible. 
It's also important to remember that sometimes you can't see the damage on your dress before you send it in. According to Sally Conant, the executive director of the
Association of Wedding Gown Specialists
, "White wine and other things dry clear, and these latent stains contain sugar that caramelizes over time into dark brown stains that ordinary dry cleaning cannot remove. You may think your gown is fine, but in six months or more, the latent stain becomes pale yellow and then darkens as it ages. Heat accelerates the process."
How Much Does Wedding Gown Preservation Cost?
Affordability is relative, of course, but after paying catering expenses, wedding gown preservation seemed very affordable. However, it's still in the hundreds of dollars and should be included in your budget. 
Wedding gown preservation costs will vary based on how many items you want preserved in the box and the extent of necessary repairs. It is best to budget approximately $200 – $400 for this.
Where to Find a Wedding Gown Preservationist?
While we very much encourage DIY wedding planning here at Gold Standard Weddings, we do not recommend preserving your own dress. First, you'll have to make sure it's properly cleaned and there's no hidden stains that will set. Time is of the essence and if you are going on your honeymoon right after your wedding, you won't have the time to properly care for the gown.
Instead, we recommend finding a professional wedding gown preservationist. There are kits you can buy online where they ship you the box and instructions, you mail the dress to them, and they send it back to you. Alternatively, you can find a bridal shop or bridal alterations shop to take care of the packaging and shipping for you. 
In all my research, I found that a self-packing kit and working through the bridal shop were the same price. Ask your bridal shop if they work with anyone for gown preservation.
My bridal alterations shop works with Wedding Gown Preservation Co. which has been preserving the gowns of brides since 1913. At the time I was getting my dress preserved, brides couldn't actually can't work with them directly, I had to go through the shop. It was very easy for me to drop off my dress at the shop, pay them $250, and then pick it up a few weeks later when it came back. No folding, packing, cleaning, worrying, or upcharge. It does look like you can now order a kit from them online or on Amazon (see below).